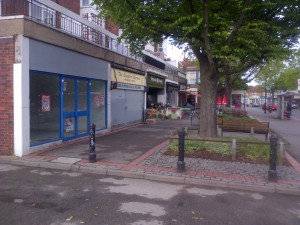 Rhubarb and Bramley, the new Greengrocers & Fruiterers opened recently in Carshalton High Street.  This is a very welcome development and Alan, Jill and Hamish wish the owners well with their enterprise.
Costa Coffee's two planning applications for the site of the two empty shops to the left of the new greengrocers have yet to be determined by Sutton Council.  The empty shops were formerly occupied by Johnsons the dry cleaners and the Country Harvest (greengrocers).
For previous postings on this topic, please click on:-
http://carshaltoncentral.mycouncillor.org.uk/2013/03/26/planning-application-for-costa-coffee-beacon-grove-high-street/
For updates you can click on the council's own web site:
www.sutton.gov.uk and review the planning applications register. The two relevant planning applications numbers 67056 and 67100 are as listed in our web posting.
Local ward councillors Alan, Jill and Hamish will do our best to ensure that local residents' views are taken into account should this planning application come to the Council's development control committee – it meets every fortnight or so for a decision.  The "trigger" for planning officers to place the application on the list of those applications coming to the committee is usually about 10 letters or more of objection. We are not sure how many letters of objection there have been, but Alan, Jill and Hamish have seen several dozen to date.